Etum South District has been redesigned to make it more CEP2 compatible, as well as adding entrances to the two new districts in development. Below are some of the images of the District. The Southern part of the city now has many towered buildings, with spires, as well as castle battlements on the southern gates. There is also a rather nifty Clock Tower in the area.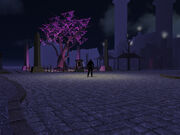 Tree of Jon Vaude
Edit
The tree of Jon Vaude, founder of Etum, has been redesigned, and looks nicer than ever. The tree is many hundreds of years old, and gives of a pleasent Purple Glow. Hadush the Taxi, is nearby.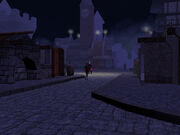 The Clocktower
Edit
The clocktower was built to commemorate the refurbishments in the area.